Campervan and Motorhome Sales & Conversions
We no longer offer campervan conversions, but we have a some great campervans and vans which would make a great conversion project available. Click to see our
Campervans and Vans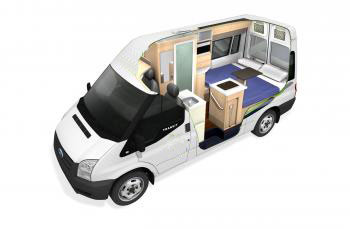 Are you looking to convert one of our vans into your dream Campervan or Motorhome? We can help.
It has become a very popular option to build and convert a used van into a campervan or motorhome. Our Adelaide depot has had a huge increase in sales of all sizes of vans (high roof, mid roof and even short low roof) to people looking to travel Australia in their dream home on wheels.
We have access to a professional team who can build your campervan to your custom requirements. Want a pop-top? No problem. Want a custom layout inside, hot water, toilet and solar power? Done. Any layout any size it can be done and for less than you think. From simple and part conversions to full on luxury motorhomes.
Almost every van we sell can be converted to your requirement. We have Ford Transit Campervans, Mercedes Sprinter Campervans, VW Crafter Campervans, VW Transporter Campervans and all the rest. Want more info? Give us a call or send us an email and we'll have your dream campervan or motorhome built and on the road in no time. We have put poptops onto Volkswagen Transporters, Mercedes Vito and even SWB Ford Transit Vans. Our team have even converted Toyota Hiace and Commuter Vans all the way up to the Toyota Coaster Sized vans.
It doesnt matter if you're in Adelaide, Melbourne, Sydney, Brisbane or Perth or anywhere in Australia for that matter we can help you by supplying you with the best van suited to your campervanning requirements and then steering you in the right direction towards converting and building your dream campervan or motorhome.